British tennis legend Andy Murray has outlined just how gruelling the time between his incredible win over Thanasi Kokkinakis and his eventual defeat to Roberto Bautista Agut was.
Following his third round loss, going down to the Spaniard in four sets, Murray told reporters he'd gotten just three hours sleep after the five-set epic before receiving treatment.
"I slept from six until nine the morning I played the match with Kokkinakis, which obviously isn't enough," he said with a smile.
"Then I had to come in here. I had about seven or eight blisters that I had to have drained and then he put this liquid in to dry it.
"I had to come in in the morning to give that time to settle. Then I went back to the hotel, slept for a few hours, and then hit for, like, 15 minutes yesterday. Yeah, just the ice baths, saw my physio."
Murray said that despite the loss last night, he was proud of his performances.
"I mean, I feel like I gave everything that I had to this event. So I'm proud of that," he said.
"That is really, in whatever you're doing, all you can do. You can't always control the outcome. You can't control how well you're going to play or the result.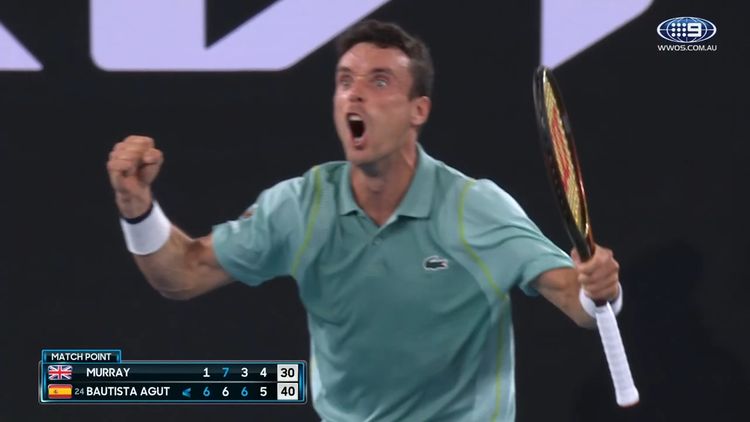 "You can control the effort that you put into it, and I gave everything that I had the last three matches. I'm very proud of that."
The 35-year-old came perilously close to retiring once before, back in 2019 – ironically, it was Bautista Agut that ended his Australian Open that night as well.
But he said that there's plenty more left in the tank.
"I felt good about the way that I was playing. It's more enjoyable for me when I'm playing like that, when I'm coming into a major event and really believing that I can do some damage," he said.
"But, yeah, I can have a deeper run than the third round of a slam, there's no question about that. Obviously draws can open up for you. I need to also help myself with that.
"If I was playing at this level last year, I probably wouldn't be ranked 50, 60 in the world. It's up to me to try and change that."